In 1998. prior to first arriving in Japan, I had spent some months in Norway researching a new work utilising an elementary process. Simply stated this involved taking one stick of wood and placing it on the ground then repeating this process until a pattern had formed or a vertical structure had been built up.
By using uniform lengths of wood, without any additional materials, the creative act had been pared down absolutely. It was a binary system closely affiliated with minimalism, arte povera and constructivism. As a framework for each installation I chose to observe a basic form of geometry rather than randomly scattering or stacking the sticks. In doing so I had stumbled upon a simple paradox. Creating with the bare minimum, confined within rigid parameters, opens a field of exploration that seems to have no definite end. The simplicity of stacking wooden sticks itself highlights another paradox. Regardless of the richness and complexity of our knowledge of the world around us, it is our fundamental, basic experiences that hold the key to unlocking the imagination. I came to understand that, in theory, 3000 units of wood have the potential for 3000 compositions.
Sadly, there are only so many hours in a day and only so many days in a year. Using some or all of the 3000 sticks available it would take approximately 8.2 years to accumulate 3000 works, at an average of one installation per day. As each installation was, at that time, taking around 3 days to complete the total time required to realise 3000 installations would be closer to 24.6 years – without a day off! In reality, the number of compositions possible from 3000 sticks is infinite, limited only by time and imagination. It follows then that the potential within 3000 sticks is not limited to one artist. Although transient in itself, wood as a construction material commonly outlasts the average human life. With 10 generations of artists taking up the challenge one after the other over 300 years, or 10 artists working simultaneously for one working lifetime, it would be possible to have accomplished 36,500 individual works, give or take the odd rest day.
By limiting the creative act to one simple material, in ample supply, with clearly defined parameters (no fixing, no cutting, no additional materials, only balance and gravity allowed for the construction process) a door opens into a wholly unexplored creative territory. This is what I believed when I arrived in Tsuchizawa in 1998 to install a work at the Tetsugoro Yurozu Memorial Museum. By this time the work had expanded to incorporate additional materials (occasionally) and to vary the lengths of each unit of wood (slightly), if necessary. The work had also grown into an aspect of performance, affectionately referred to in Japan as the "kick down". With the element of performance comes video documentation, not only of the "kick down" but also of the "building up" element of the performance.
Through this system my practice can be understood as: Installation art ; Process art; Ephemeral art; Conceptual Art; Video art; Performance art; Time based art.
However, until only a few months ago I was completely unaware that this work, researched and developed over a number of years, can also be classified as Auto Destructive Art. The term originates with Gustav Metzger (born 1926) who produced a brief manifesto in London in 1960. Auto Destructive Art challenged a capitalist system of art production and so was marginalised and widely ignored. There has been recent revived interest in the UK with a retrospective of Metzger' s work at the Serpentine Gallery in London (29 September – 8 November 2009) and with such events as the winning of the Turner prize by Richard Wright (December 2009). Although perhaps Jean Tinguely and Roman Signer can be aligned more easily with Auto Destructive Art, Richard Wright's major works cannot be owned and will be painted over after each exhibition. This has been hailed as "radical" in the UK. To have an artist's work praised as radical makes a welcomed change from assessing the value of an art work on monetary/art market terms. However, the process of erasing a work of art is not in itself radical, but fundamental to the understanding of what art is and how it can contribute to the creative development of our lives. All things must pass away, and for a reason. Even the Sun.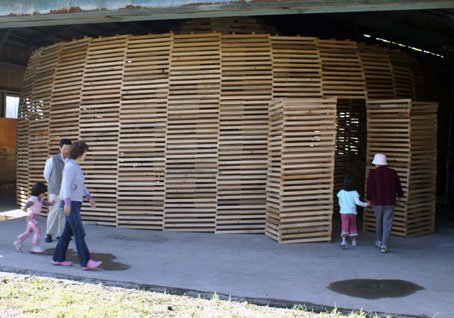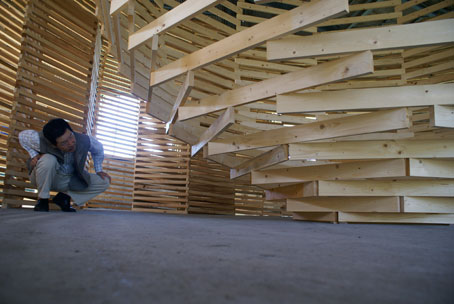 It is rare for me to plan and develop a work without having first seen and experienced the proposed exhibition space. For the 4th Art@Tsuchizawa exhibition I chose to create an installation that extended my work beyond the creation/destruction/performance scenario, familiar to those who have followed my work. The installation was an attempt to fill the space, to capacity, with a transient installation that referenced both architecture and the cosmos. Our inability to visualize or comprehend the vastness of space or the structure of the universe has always been a rich asource for my imagination, and I draw heavily on this when working in an improvised way with the exhibition venues I am given.
The installation consisted of a double wall containing approximately 3000 lengths of wood. The material (almost uniform 4.7cm wide x 4.7cm high x 93 – 104cm long) were stacked in an alternating binary fashion (layer 1: stick-space-stick. Layer 2: space-stick-space) to create the two circular walls, one inside the other. These walls acted as a corridor through which the public could walk. This circular corridor lead into a central circular space containing a spherical form, again stacked in a binary fashion, from lengths of wood. The spherical form has been referenced many times in my previous installations. I have also made several architectural works that allow the public to walk inside the structures exhibited. This was the first time to combine these two aspects in one installation. The work was intentionally made to be "almost" too big for the space, preventing the public from seeing the work in its entirety. The installations purpose was primarily to give the audience a sense or a feeling as they moved through the work. What that sense or feeling might be is dependent on the emotions of the individual. Although visually striking the work existed to provide a physical experience, a lucid understanding of the thoughts and feelings of the artist as the work was created.
The work was dismantled at the end of the exhibition and cannot be repeated.
*Gustav Metzger: Manifesto Auto-Destructive Art (1960)
Man In Regent Street is auto-destructive.
Rockets, nuclear weapons, are auto-destructive.
Auto-destructive art.
The drop drop dropping of HH bombs.
Not interested in ruins, (the picturesque)
Auto-destructive art re-enacts the obsession with destruction, the pummeling to which individuals and masses are subjected.
Auto-destructive art demonstrates man's power to accelerate disintegrative processes of nature and to order them.
Auto-destructive art mirrors the compulsive perfectionism of arms manufacture - polishing to destruction point.
Auto-destructive art is the transformation of technology into public art. The immense productive capacity, the chaos of capitalism and of Soviet communism, the co-existence of surplus and starvation; the increasing stock-piling of nuclear weapons - more than enough to destroy technological societies; the disintegrative effect of machinery and of life in vast built-up areas on the person,...
Auto-destructive art is art which contains within itself an agent which automatically leads to its destruction within a period of time not to exceed twenty years. Other forms of auto-destructive art involve manual manipulation. There are forms of auto-destructive art where the artist has a tight control over the nature and timing of the disintegrative process, and there are other forms where the artist's control is slight.
Materials and techniques used in creating auto-destructive art include: Acid, Adhesives, Ballistics, Canvas, Clay, Combustion, Compression, Concrete, Corrosion, Cybernetics, Drop, Elasticity, Electricity, Electrolysis, Feed-Back, Glass, Heat, Human Energy, Ice, Jet, Light, Load, Mass-production, Metal, Motion Picture, Natural Forces, Nuclear Energy, Paint, Paper, Photography, Plaster, Plastics, Pressure, Radiation, Sand, Solar Energy, Sound, Steam, Stress, Terra-cotta, Vibration, Water, Welding, Wire, Wood.