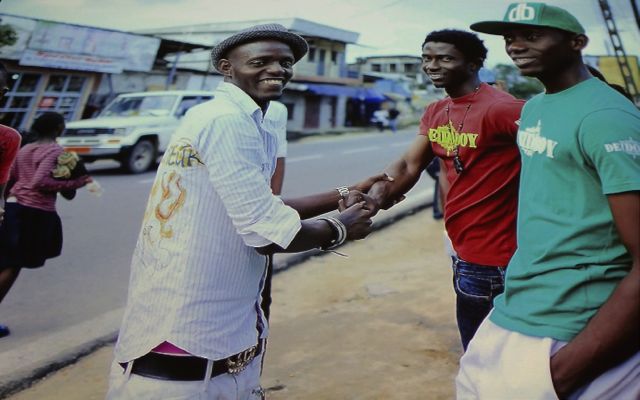 Invisible Borders: A Trans-African Worldspace.One of the many photos presented as part of the artists collectives explorations across Africa.
Please allow me to introduce myself
This is now the fourth time I have been in Venice. It is the third time I have been to the biennale, the second time I have been to the preview week and the first time I have attended in any official capacity. I was informed by our contact Pippa that we would each have to apply for a pass to gain actual access to the Giardini and Arsenal sections.This is a standard procedure for the biennale committee. It sorts out the wheat from the chaff, in a manner of speaking. We were also informed that stating you are an artist, when submitting your online request for a preview pass, might not cut it with the committee and so we should affiliate ourselves with some institution. I applied as a "Board of Directors" member for the Edinburgh Sculpture Workshop, and failed to get a pass. The first email I received from one of the group noted that they had been turned down for a pass and were asking for any suggestions. I thought to reply, not certain that this would also be sent to all other group members. It is worthwhile reprinting my email reply in its entirety here:
Hi Jane. I did not get a pass either (Board of directors Edinburgh Sculpture Workshop). Having had the good fortune of being at the preview days in 2013, I can remember that it is both very busy and security conscious. If you get a pass you should also show your ID/passport to prove that it is your pass! On saying that I gained entrance on a press pass from an Italian curator and as far as I remember the press pass let me in without having to ID myself at the gates. My wife got in on a pass without them asking her for ID, but she was pushing a pram at the time so that probably helped clear her at security!
I have asked a colleague to apply for a press pass - which I will use if it is issued. If it is the case that it does not require ID then I am willing to lend this out on a time share basis if anyone is stuck. The name on the pass will be Alberto, but they don't really have time to check everyone thoroughly! I have also asked a gallery director in The Netherlands if I can have his pass, if he gets one - as he can't attend. However, this also will have a male name on it!.
Back in the day (1995), I jumped the (admittedly very low) hedge into the Giardini which I am still contemplating doing this time round if all else fails. A small scramble thought some shrubbery and you pop out at the Korean Pavilion! Nonchalantly smoking a cigarette or pretending to talk on your mobile as you do so, might help alleviate any suspicious looks.
My last suggestion would be, for those of us who stand rejected from the inner circle, to buy a Venice Pass ( 60 Euros?) and use it on a time share basis. This option might be a bit too much to organise as 3 hours in the Arsenale or Giardini is probably not long enough. There is also the issue of ID which may or may not be required with this pass. However, accidentally dropping the Venice pass over the hedge (at the back of the British pavilion there is a clear drop to the walkway outside the Giardini) would allow several people to gain access in succession to the Giardini at least!
Anyway, that is all I can say on the matter at the moment.
Aeneas

There weren't so many emails from the group after that.
Any opportunity to meet with my fellow a-n bursary awardees was going to be limited to a talk by Graham Fagen and curator Lucy Byatt at the Scotland + Venice Pavilion and another informal talk by Helen Sear at the Welsh Pavilion. Through a-n we all received a yellow custard pie coloured pdf invitation to the preview opening of the Sarah Lucas show at the British Pavilion. It stated clearly that this invitation did not, in itself, guarantee access to the Giardini. I thought that this pdf should be best printed out in case I needed to show it to gain actual access to the British pavilion. In the end I did receive an access pass to the Giardini and Arsenale, courtesy of the British Council. Armed with these invites and an RSVP'd invitation from the Paul Brady Gallery, New York, to attend the Jaume Plensa preview, I thought I knew what I was in for.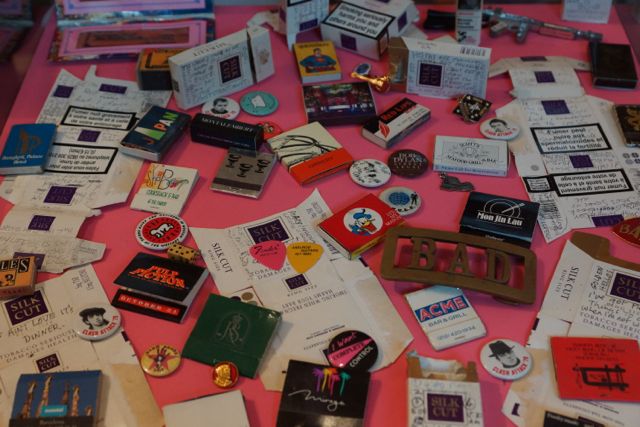 The Rock and Roll Public Library: Small items of memerobilia as part of the overall show.
(White Man) in Hammersmith Palais
I arrived in Venice on a late train. The next morning I discovered that on the floor below my accommodation there was the Zimbabwean Pavilion presenting Pixels of Ubuntu / Unhu. Exploring the Social And Cultural Identities Of The 21st Century. This is the third time Zimbabwe has participated in the biennale with a pavilion. The 56th Venice Biennale has the strongest representation of African artists of any biennale before and I wondered if there would be, as the song says, "many black ears here to listen".
Down on the ground floor was The Rock and Roll Public Library, curated by Mick Jones, James Putnam & Lauren Jones. This comprises memorabilia, objects, art, artefacts, records, comics, books, music, films, stage outfits, instruments and other objects belonging to the musician and former Clash member Mick Jones. The building also housed The Question of Beings, by Yahon Chang as well as the Ecuadorian Pavilion, showing Gold Water: Apocalyptic Black Mirrors by Maria Veronica Leon Veintemilla. There was a big exhibition by the Turkish artist Ahmet Güne?tekin. It was a busy morning for someone who hadn't yet left their building.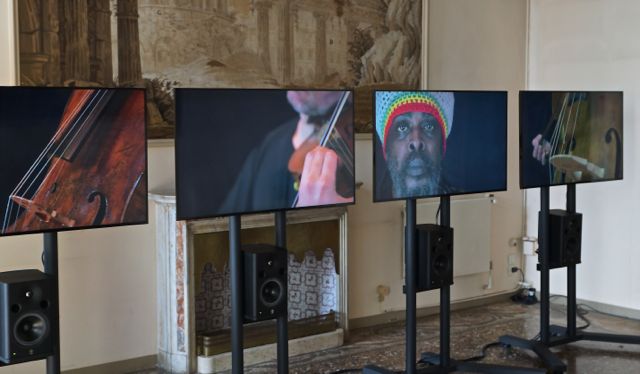 Installation view of Graham Fagen's The Slave's Lament. One of five works presented as pat of his Scotland + Venice show.
Prior to arriving in Venice I had arranged to attend the press preview of the Venice + Scotland show by Graham Fagen. Punctuality is not always possible in Venice and it would appear that the press do tend to come a bit later. It was quiet in the Palazzo Fontana and I was glad to have the time to view the work in peace. There was a strong African presence in this exhibition in the form of Ghetto Priest, a gifted vocalist and member of the Asian Dub Foundation and African Headcharge, amongst others. He features in the five channel audio visual installation video The Slave's Lament. This Robert Burns poem has been set to music by Sally Beamish, with cello, double bass and violin accompaniment. Adrian Sherwood was the producer and there are splashes of dub percussion throughout. The combination makes for a stand alone work that stayed with me throughout my 5 days in Venice. If Graham can arrange to release it on another format, it would be no bad thing. Maybe Creative Scotland could further help him financially?
Machine Gun Etiquette
The Venice Biennale preview days ran from the 6th - 8th May. I dutifully queued early for the Arsenale section on the morning of the 6th. I was handed an information folder and stuffed it into my bag. It was a large, awkward double gatefold sheet of card. I had not brought my glasses that morning so intended to look at it later, but never did. Over three days, I was blind to what was, in fact, a preview timetable for all events. In some ways I benefited from this, but I would not recommend it as a strategy.
An early arrival at the Arsenale enabled me to see many works before the density of the visitors added to what was already a demanding time. The curated show "All The World's Futures" covers so much about our world and the realities we face, or don't, that it is impossible to do so much work any justice here. The first room you enter juxtaposes Bruce Nauman's colourful neons, including Raw War, made during the Vietnam war, with Algerian-born Adel Abdessemed's Nympheas (Water Lilies). Large knives / machetes / swords, sit on the floor in bristling bouquets and Okwui Enwezor's selection of artists doesn't let up from there. The Propeller Group, a Vietnamese collective established by Tuan Andrew Nguyen and Phunam Thuc Ha, present The AK-47 vs. The M16. In an ultra-high-speed video recording of a transparent ballistic gel block showing the slowed down trajectory of Individual bullets from each assault rifle as well as a head to head collision, resulting in spectacular visuals.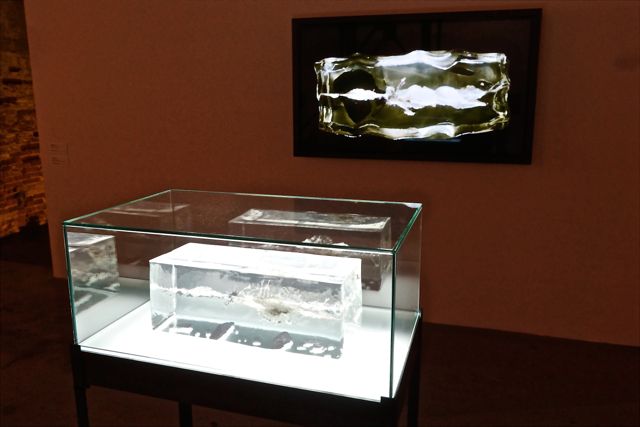 The Propeller Group: The AK47 Vs The M16, insatllation view.
If there is any one stand out work that I should pick from the Arsenale it would be the artists collective Invisible Borders presentation A Trans-African Worldspace. The exhibition included contributions from Ala Kheir, Amaize Ojeikere, Charles Okereke , Emeka Okereke, Emmanuel Iduma, Jide Odukoya, Jumoke Sanwo, Lillian Novo Isioro, Lucy Azubuike, Ray Daniels Okeugo, Teresa Menka, Tom Saater, Uche Okpa-Iroha, Venessa Peterson. "Artists and writers who have traveled as part of the project did not insist on showing everyday spaces—like markets, streets, restaurants, roads, and malls—as places in need of repair or development. But as places where life occurs without judgment, with mirth, theatricality, and beauty". The work was all the more positive for that as they presented comprehensive snap shots and video, of their encounters travelling out of Lagos across Africa.
In the Arsenale section there are also many national pavilions including the South African Pavilion. Having seen the exhibition If We Ever Get To Heaven by William Kentridge, just days before at the EYE Film Museum in Amsterdam, I wanted to make a point of seeing this pavilion. South Africa holds many firsts for me. It was my first - and only - African country visited. It was also the first time I ever saw a man beaten, bleeding and cable tied in the gutter. It was the first place in which I was ever robbed at knife point and the first time I had slept in a room while someone tried to break in through the window. Under the protective wing of the District Six Museum in Capetown, where I was doing a project, it was also one of the most enjoyable times of my entire life. The South African artists works in the pavilion deal with many of the issues that define South Africa's history and shape its identity. The artists presenting work in the pavilion are Willem Boshoff, Haroon Gunn-Salie, Angus Gibson, Mark Lewis, Gerald Machona, Mohau Modisakeng, Nandipha Mntambo, Brett Murray, Jo Ractliffe, Robin Rhode, Warrick Sony, Diane Victor, Jeremy Wafer. I may, or may not, have seen some of the street performances as part of the Joburg Pavilion, it was really hard to tell, there are quite a few weirdos walking about Venice at this time of the year. The Joburg Pavilion members are concerned that the government-sponsored and run South African pavilion doesn't showcase the scope of South Africa's emerging artistic talent. I think that this is a sentiment many artists around the world can identify with and I hope people took note during their short two week run at the biennale.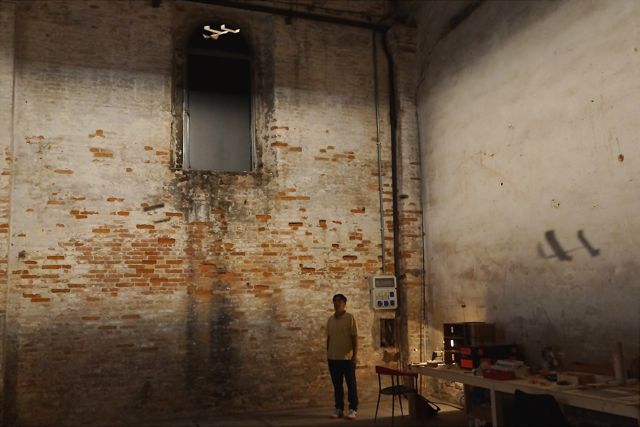 Ernesto Ballasteros stands and watches one of his hand crafted model aeroplanes flying around in his installation space at the Arsenale.
The 6th May was also a day of appointments with a-n The Artists Information Company. They had scheduled a talk, with Lucy Byatt and Graham Fagen, amongst others, for our benefit. Arriving late - at the tail end of a half hour talk, I seem to have missed the opportunity to meet with my fellow bursary awardees. Always capable of putting my foot in it and not actually knowing anyone involved in the Scottish Pavilion other than Dolly - Hello Dolly - I thought it best to make a fresh start at the next a-n organised appointment, which would be Helen Sear's informal talk. I was still under the delusion that our third appointment that day was a private invite to the opening of Sarah Lucas' show at the British Pavilion. Deciding to test drive my lovely grey Italian suit, with shoes and shirt from Bologna and a nice pink tie, I made my way over to the Welsh pavilion. Helen and the curator spoke a little about their working together on the show, while it dawned on me that I was completely over dressed for this occasion. I stuck out like the proverbial sore thumb. My wife is not the only one who has commented that my formal dress has something of the low level mafioso about it. It may have hindered how people viewed me. Someone somewhere must have been thinking "is he going to attempt jumping that hedge in a suit?" Ice breakers were difficult.
Meanwhile the preview days were in full swing everywhere. So many people you wouldn't believe. I made my way to the Giardini and by degrees my attire slowly began to look less suspicious. As I approached the Giardini thunderous guitar and drums were being hammered out somewhere, floating distantly through the air. And it just kept getting louder. It was apparent to everyone already there that this was the prelude to the opening of the Sarah Lucas show. She certainly had everyones attention and it was a nice touch, subtle as a brick. Once the band had finished, the gear was taken off the steps and anyone and everyone was allowed to pour in. This wasn't quite the private view that I had imagined. I tucked my yellow pdf printout back deep into my pocket. It was only later that I realised: a private view and private party (sit down or otherwise) are not the same thing.
I had had the pleasure of seeing two of Sarah Lucas' works just days earlier in Milan, including an early work Fucked - two fried eggs and a hotdog in a bun (Arts & Foods: Rituals since 1851" curated by Germano Celant, the most highly respected curator in Italy today). Sarah knows what she is doing and understands the global level at which her art works sell. In the British Pavilion her work does what you might expect and I wonder why she is putting a middle finger up at someone or something. It is hard not to think that while looking at this show.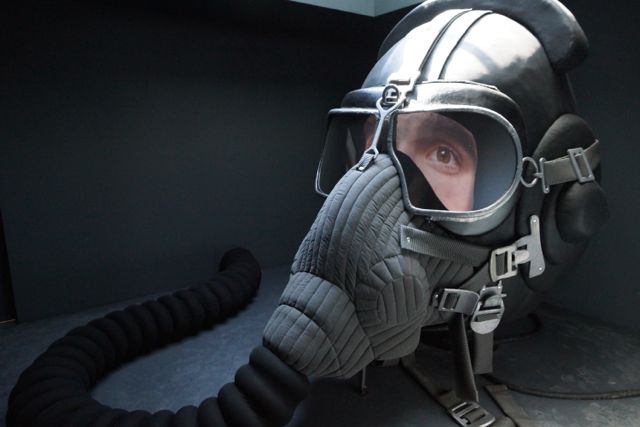 Irina Nakhova: A pilots helmet the size of a room ios one of several installation works in the outstanding Russian Pavillion.
As there was no private view as such, I took the opportunity to look at some of the national Pavilions within the Giardini. It is not possible to see everything but I stayed until seven taking in the pavilions that did not have lengthy queues. The Finnish and Korean Pavilions would have to wait. In the Japanese Pavilion, Chiharu Shiota presents an outstanding installation The key in the Hand, which has a very positive feel to it, for me at least. Underneath the pavilion building there is a four channel video work where she has asked kindergarden children to speak of the time before and immediately after they were born. To capture those early moments of fantasy, the beginnings of both creativity and identity, was one of the most subtle and inspiring works in the whole biennale.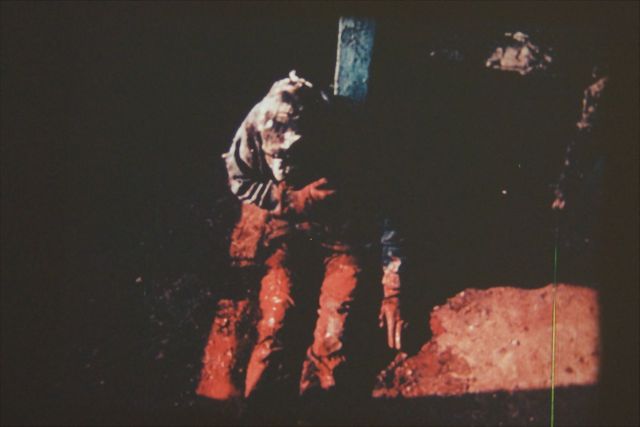 Video Still from L'Homme qui tousse by Christian Boltanski.
Polar opposites were also at play here. In the Central Pavilion I was fascinated by the Christian Boltanski 16mm film projected performance from 1969, L'Homme qui tousse. Personally, I don't care for horror movies. But, if you do, all you would require is a hard copy of this performance in your collection and it will give you everything that you desire. The rest of your DVD collection you can ditch. Most people hurried past, but at around three minutes long it wasn't so demanding of your time and can easily be viewed again and again. Additionally, I was fortunate enough to catch the five songs and one dance by a woman in blue hair singing from the ballad sheets of Jeremy Deller's Broadsides & Ballads of the Industrial Revolution. This was part of the Central Pavilion's Arena programme. If you understood the context of these ballads it was heartbreaking and the tear the performer quickly wiped from her eye was genuine.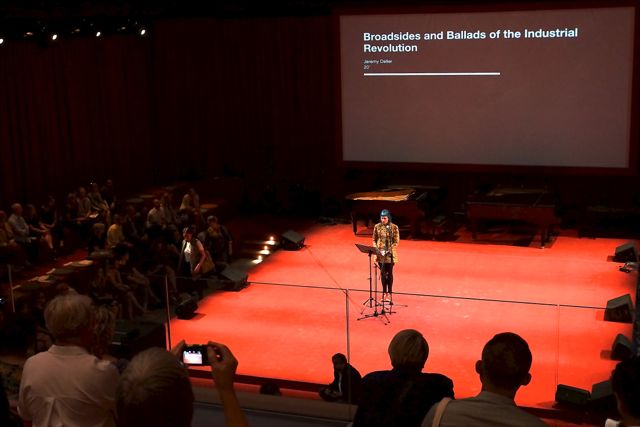 Jennifer Reid sings Broadsides and Ballads from the Industrial Revolution in the Arena section of the Central Pavillion.
All Tomorrow's Parties
With the Giardini closing for the day it was best now to get something to eat. Having failed to acquaint myself with any of the other a-n bursary artists and bumping into no one, I found myself by 8pm sitting in a small fast food pizza place serving locals, miles from the main drag. A vegetarian pizza was €6 and a 660ml bottle of Moretti beer from their fridge was €1.50, incase you are wondering. I decided to get out of the suit and went back to my hostel to change. There was a private party there, for the Ahmet Güne?tekin show, in the garden courtyard of my hostel. I did not have the requisite gold band round my wrist so the bouncer would not let me in from my own corridor entrance. I walked round and entered by the garden wall, which I should add, had an open green door and no bouncer. I didn't have to vault anything.
Not knowing a soul at this party and the band having just finished their set, I found myself walking along the waterfront, tired. By around 10pm I was ready to go to bed. I decided to meander a bit on my way home and soon became lost and disorientated - which happens a lot in Venice. After an age I passed through what was a considerable throng of people in some back street junction. With the full intention of heading home I continued to wearily weave my way through everyone, before deciding to go back into the throng. I was absolutely bursting and had to see if I could get into the party building and use their toilet. There was no one checking for any gold bands or such and I made my way into what was, in fact, a heaving club, rammed with people dancing and drinking. The toilet was at the far back corner of the room and it took a while to negotiate my way there. The bar was five deep and I decided, now that I was here, to have a beer and stand about for a while. It did cross my mind that I knew no body here, nor did I know what the party was for or who it was held by. I stood by a opened street level window, close to the toilets, watching the party in full swing. Some vagabonds passing by on the street outside, were attempting to snatch, through the barred but open window, any or all of the personal items that people had left there on the sill. I stood guard at that window for 20 minutes, until the group of four tired of waiting for me to stop noticing them. Some people went home a little happier than they otherwise would have that night.
After some time a very young man came and stood beside me at the window to roll a very thin roll-up. I still had no idea who anyone was here, but this guy looked like he didn't know anyone either, he was just too young. We laughed together about that and then he handed me a flyer saying his dad was in a group show if I wanted to come to the opening. His name, he told me, was Noah and I smiled a goodbye as he left with his sister. Bolstered by my one conversation I decided to try again at the five deep bar. A good twenty minutes waiting and pushing and waiting later, I reached the bar itself. The person next to me looked concerned that I would jump in and try and get served ahead of her, so I said "don't worry, you are before me". It turns out this person, Clare, was from Motherwell and recognised my accent. We exchanged a few words while it came to everyones attention that the beer had finally ran out. Clare gave up the wait but I held on for a bit longer and finally two small plastic cups of beer came out of the tap for me. I walked outside and gave one beer to Clare who was standing with her two friends. The four of us ended up blethering warmheartedly for a couple of hours and the irony was not lost on me that the person who had no party invitations and didn't even know that he had stumbled across the Belgian after party, spent the best part of his time with the projects organiser for Anthony d'Offay, Susanna from White Cube and Daniel from Chateau La Cost. I encouraged them to visit the Graham Fagen exhibition. The Slave's Lament was still there being carried around with me and the opening was tomorrow.
Come Together
The next day I had laundry and shopping to do. It was also a big day as I did have invitations to two events, Graham Fagen's official opening was from 2pm (Yes I was showing my face there again!). The Jaume Plensa exhibition Together was from 5pm until 8pm. I had been fortunate enough to have a solo show at the Yorkshire Sculpture Park in 2011 during the extensive Jaume Plensa exhibition there that year and YSP had been kind enough to "keep me in the loop". I thought I would keep the suit for that occasion and found myself at the Scottish pavilion that afternoon in more pragmatic biennale attire - a casual top or t-shirt, sensible shoes and a satchel or such for all accumulated press releases, paper work and catalogues. Oddly, I seem to have arrived early again and the first person I bumped into was Daniel from Chateau La Cost, Clare and Susanna were there also. It seems they had agreed to rendezvous at Scotland + Venice before continuing to their next port of call and I was glad to see them again so soon.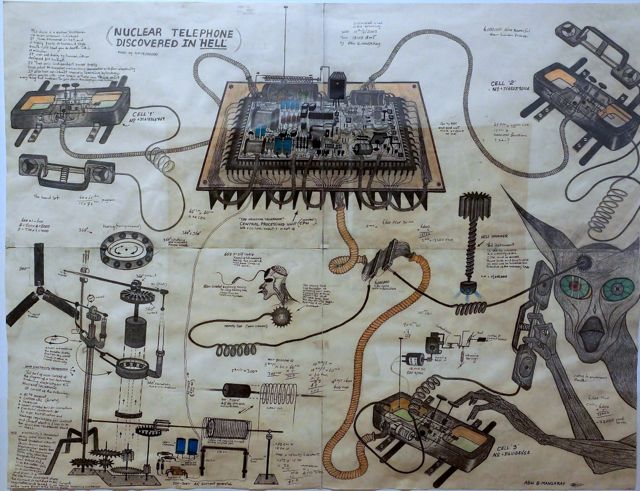 Abu Bakarr Mansaray: Nuclear Telephone Discovered in Hell, 2003.
During Graham Fagen's opening I did manage to talk with one of the other members of the Go and See bursary group. They told me that the opening of Doug Fishbone's Leisure Land Golf was at 5pm. I thought to pop over there next and changed into my suit on the way.
I have a soft spot for Doug Fishbone's work. His narrated monologues with accompanying imagery are exactly what my older brother would have done, perhaps even thirty years ago, had he known you have free licence to do such things in this world and get paid for them. Instead, my brother went off on a 30 year drugs bender and today holds the unofficial Guinness world record for someone living without the head and neck of his right femur. The NHS had to cut this off for some reason but don't give hip replacements until you have stopped using, and as far as I know he hasn't. Leisure Land Golf is a much tamer affair than Doug's narrated monologues - no rapid succession slides of genital warts or chicks with dicks cropping up here and there, for example. Making sense of today's advanced art — decentred, complex and contrarian - is not so easy. The work is a clear vehicle for facilitating this and you could spend a lot of time thinking over his project. Or you could just have a laugh with your friends and a putter. I don't recall seeing many people laughing heartily along with work in any other part of the biennale.
As I was now in my suit again, it was time to catch the laid on private vaporetto to San Giorgio Maggiore to attend the preview of Jaume Plensa's exhibition Together. Finally arriving on the island, I no longer looked like the groom's best man without a carnation and started to look like just another dapper gentleman among many. Surely no one there would ever know I was once a hedge jumper. The exhibition was curated by Clare Lilley and was a show predominantly of figurative heads including three tilted portrait drawings on paper. A gigantic linear meshed head sits in the San Giorgio Maggiore church in a nod to John the Baptist. But it is the five alabaster heads in single file, located in an annexed room, that makes the strongest impact. You become like a rabbit caught in their headlights and you won't be disappointed if you go. There is, as a bonus, an elevator at the back of the church where you can take a free trip up the tower for the views.
So Much Trouble In The World
It was something of a disappointment to know that by Friday morning you had just one day left to see what you could, knowing that you would fail to see even half of what was on offer. My disappointment furthered as I awoke to the fact that I would have to do it all while suffering from haemorrhoids (that's emorroidi in Italian - you learn something new every day!). I guess sitting on a stone step waiting for a vaporetto, late into the night, did not help. An unbalanced diet and alcohol were undoubtedly also factors. It was not long before Sarah Lucas' bulbous forms were on my mind again. I now had a perspective on the contents of the British Pavilion not shared by many in the Giardini that day and I was warming to her work more and more. The unfortunate thing with haemorrhoids is that you really should just lie down and wait it out. Walking is perhaps one of the things best not to do while under this condition.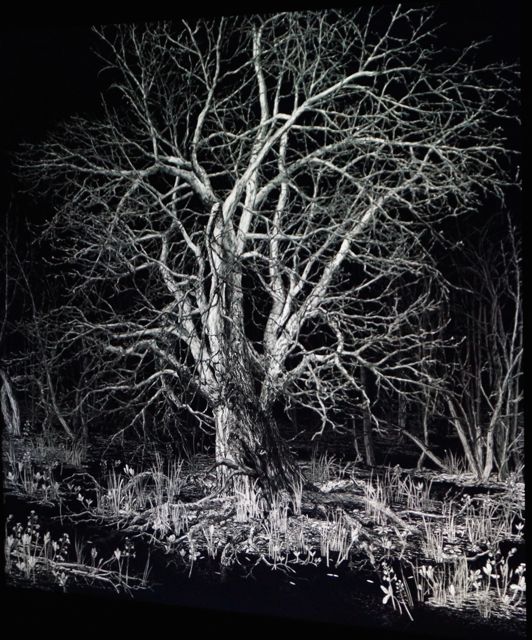 The Finnish Pavillion: Video still from the animationYears, Aeons, by the artist duo IC-98.
At a snails pace I made my way to the Giardini early to visit the pavilions I had yet to see due to long queues on previous days. I was grateful to have the opportunity to stand and stay an hour in the Finnish pavilion, which was presenting Hours, Years, Aeons. by the artist duo IC-98. It is impossible to take in everything that is going on within this work. This video installation presents the growth and death of a tree, with a jarring sound track and is utterly mesmerising. It is in a complete league of its own and I would urge anyone not able to go to the 56th biennale to try and make it to Dundee Contemporary Arts where you will see much more of their work later this year.
The Belgian Pavilion presented Vincent Meessen who, in turn presented a group show featuring a dozen artists (hence the great party?), with his work being central to the exhibition concept. Filmed in Kinshasa, this new work of his explores the largely unknown participation of Congolese intellectuals within the last international vanguard of modernity: the Situationist International, whose final conference took place in Venice in 1969. You could, and should, spend a day in that pavilion alone. So many outstanding works all of which are centred on issues that are relevant to everyone. Perhaps the opening paragraph from Raoul Vaneigem's text For an Internationale of Humankind, included in the Belgian pavilion's catalogue Personne et les autres, might help clarify what is on offer here.
"As poverty spreads on a global scale Europe is in bed with the financial powers primarily responsible for that spread. Indeed it is so obliging that it covers over their embezzlement by routing to other targets a popular rage that would rightly have been aimed squarely at those financial powers. The strategy is part and parcel of the effort, which requires the lies of state power in every country, to stupefy the masses"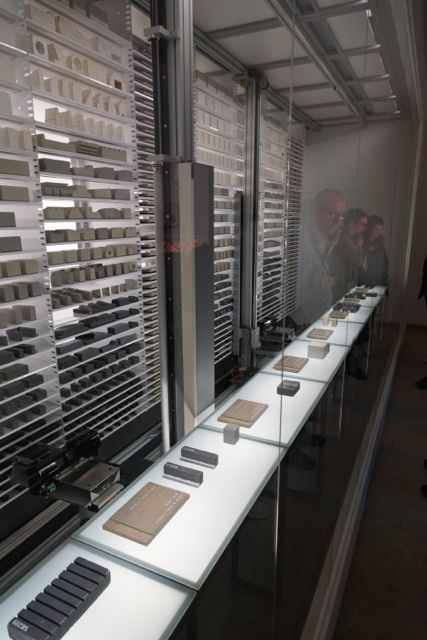 James Beckett's installation as part of the Belgian Pavillion.
Raoul Vaneigem's text covers many points and these are all somehow illuminated through each artists work in the exhibition. The artists themselves did not make work because of this text, the whole exhibition is just brilliantly coherent. The artists in the exhibition are Mathieu K Abonnenc, Sammy Baloji, James Beckett, Elisabetta Benassi, Patrick Bernier & Olive Martin, Tamar Guimarães & Kasper Akhøj, Maryam Jafri, Adam Pendleton. Get to know them, get to love them. If you can't get to the biennale, buy the catalogue.
This being the Venice Biennale, I had to visit the Korean Pavilion. It was my baptism into contemporary art all those years ago and the building feels like an old friend. The Ways of Folding Space and Flying was the title of the work. Again it is hard to describe in such short words. High end video production of a future time, the three videos that dominate the interior space show a white-tinted woman carrying out simple tasks alone in her futuristic world, She has everything at her fingertips, although there is a sense that she is trapped there. If Stanley Kubrick could have reshot the last scenes of 2001: A space Odyssey having teamed up with Jonathan Ive and presented it as a three film video installation, then they just might have come up with something as good as this project by Moon Kyungwon & Jeon Joonho. It is worth staying a while longer in this pavilion. There are two video projections on the glass surfaces of the building also which can be viewed from outside. One day, in the not too distant future, the Korean Pavilion may very well levitate. Having not managed to get to a pharmacy yet, I couldn't help thinking it was high time someone invented one of those medical wands that Doctor McCoy used to carry around in Star Trek!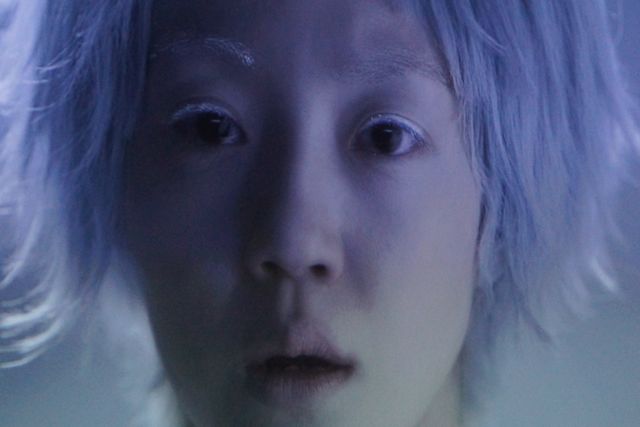 Korean Pavillion: Video still from The Ways of Folding Space and Flying by Moon Kyungwon & Jeon Joonho.
By seven that evening I had managed to tentatively walk back to where I was staying. The one person I was arranging to meet for a coffee was under obligation at a sit down formal dinner. I still had the flier given to me by Noah and I thought to stop by and look in on the exhibition. In truth I had no where else to go. Vernissage 6 - 10pm it said. The exhibition was called The Fall Of The Rebel Angels and listed one hundred and sixteen artists in the show, It was curated by Vanya Balogh. The address was Riva die sette Martiri, Castello 1610/A, which was handy as that was right on the waterfront, almost under the nose of a berthed Yacht and mercifully close to my accommodation. You won't see a more energised, eclectic show in the whole of Venice. The spaces of the exhibition were full of works to many to recount here. However, the rebel angels Dallas, Cedric, Mark, Glenn, George, Poppy and Noah are all worth a mention. I found myself again being taken under somebodies wing that evening and am grateful to each of them for that. The show only runs until the 24th June and is not an official collateral event. Catch them if you can.
This exhibition is right next door to a small park, the Giardino della Marinaressa, hosting outdoor works by Ursula Von Rydingsvard. This is a Yorkshire Sculpture Park project where the garden renovation was central. This is not the Giardini itself, more the last bit of green on your way to Piazza San Marco. This park was in a sorry state before YSP, in collaboration with the Comune di Venezia, sorted it all out. Apparently the locals are delighted that they actually get something concrete and beneficial out of the biennale - beyond the paying, braying guests who descend on their city. There was a semi authoritative venetian gentleman there when I visited, trying not to smile as he kept telling people kindly to keep off the grass.
In the end, my apologies must go out to Kate MccGwire, whose work is part of a collateral event Glasstress 2015. There are some 50 works by contemporary artists within the overall show, presented by The State Hermitage Museum & Berengo Studio. I dearly wanted to go and see her work. I had made my way over there the previous day but it was closed for some reason. By the time I had again snails paced my way back to the Palazzo Cavalli Franchetti on the day I was leaving, those final stairs up to the exhibition were going to be too much. Crossing the Ponte dell'Accademia itself just about killed me!
As I left for the airport I still had the sound of cello, violin, bass, dub and the voice of Ghetto Priest in my head and I was glad for it. "And alas! I am weary, weary O".
Aeneas Wilder
May 14 2015