Dear Jim, greetings from Charles de Gaulle Airport. I must thank you again for your introduction to professor Iain Hutchison. His work on plasma physics is certainly fascinating and I felt a bit like Ringo Starr meeting Elvis in Graceland as I walked into Professor Hutchinson's MIT research facility. It certainly was an odd moment standing next to one of the worlds leading nuclear physicists just days before arriving in Tehran.
I travelled to Tehran at the invitation of the 1st Tehran International Sculpture Symposium. I agreed to participate not because I particularly wanted to make a "sculpture" in a symposium setting, but because the symposium would give me the opportunity to visit Iran, and to see a part of the world that may well change beyond recognition due to the geo-political climate that we are currently in. As you quite rightly pointed out the last time we spoke, the Iraq of five years ago is now lost forever.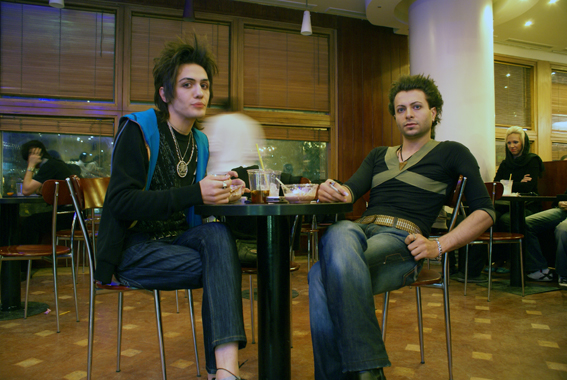 Two of Iran's finest out for a casual coffee.
The prospect of visiting one of the world's great centres of culture was too attractive to let pass. The process of applying to the symposium was straight forward, and I was delighted to receive the invitation as one of the selected 20 artists. It was an all expenses paid trip with the possibility of being awarded one of several cash prizes worth several thousand dollars. As they say in Iran " Persians will kill you with hospitality". The initial application process had dealt with over 400 applicants work. I will be quite frank here when I say that I was quite shocked by the large number of amateur and / or childish and simple works that had been selected for the shortlist of 50. It is debatable whether the final 20 artists works were the best of the short-listed 50. There were some excellent proposals that were screened out and I cannot help but wonder about the selection committees decision to select certain works over others. There were real problems in the end with the chief organisers of the symposium and the fact that cultural propaganda was being used for political gain from such an event. However, my main concern was not the artistic integrity of the selected works, nor of the symposium. My main concern was to see Tehran, to see Iran, to meet with Iranians and to glimpse the complexity of a culture easily simplified and demonised by the western media.
The symposium consisted of 7 Iranian artists and 15 international artists. The international artists were all put up in the 5 star Esteghal Hotel located in the north of Tehran. We would leave the hotel at 8am each morning and travel by coach for one hour, through hellish traffic across northern Tehran, to the symposium site. The symposium was located in Chitgar Park, a popular location on the western outskirts of the city. We would all work a full day and were provided with an outstanding banquette style buffet lunch for all artists and assistants. The grass roots co-ordinators, the artists assistants and the catering staff were all charming. It was whispered to me that all the artists were to have only a positive perception of Iran, and because of this the strain on the faces of many of the co-ordinators was evident to those who cared to notice. Work would stop at 6pm where upon we would all, for one hour again - sometimes two hours - travel back to the hotel. All the artists would be tired and dirty after a hard days work. Once back at the hotel we would go to our rooms, shower, change, and then eat in the rather bland restaurant in the hotel. The rest of the evening would be spent in the hotel lobby, drinking soft drinks or coffee and talking. As everyone knows, alcohol is strictly prohibited in the Peoples Republic of Iran. The city of Tehran had spent a fortune on the symposium and if you worked in stone or metal you would be able to produce anything at the symposium location. However, I had proposed to create a work in wood. Although the organisers new what my proposed work would be well in advance, they had failed to provide any wood working machinery. In order to prepare my work I therefore had to travel to the southern part of Tehran, to an area where all the wood workshops in the city co-exist. Because of this I was one of the few artists who saw anything of Tehran other than the hotel - bus - symposium site - bus - hotel daily routine.
For one week I would meet each morning with my assistant, Hadi Hussein. We would then leave the hotel and catch a lift from one of the many independent drivers who are willing to act as a taxi in exchange for some Iranian Rials. The system is this: stand at the side of the road and when a car slows down you shout out the name of your destination. If the driver is going in your direction they may stop and give you a lift. This is a combination of communal transport and private enterprise at its finest. White knuckle rides were the order of the day, until of course the traffic grinds to a halt. Tehran traffic is hellish and the roads are so congested for several reasons. 1: public transport infrastructure is limited. 2: there are a massive network of motorways that connect the various districts of Tehran - a city of 14 million people. 3. any old banger is allowed on the road. 4: a litre of petrol is currently priced at around 5p (10 US cents). There is currently a public outcry at the possibility of the price being raised to 8p per litre.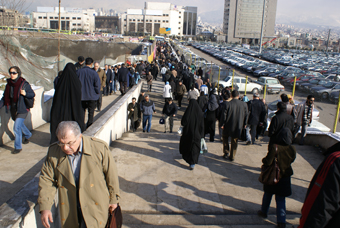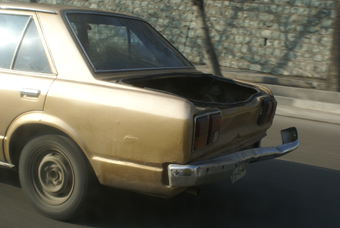 Left: People arriving and leaving from Mirdamad Station. Right: Any old banger
Having procured our lift Hadi Hussein and I would be driven to Mirdamad, the most northern stop on the two line metro/ underground system. From here we would take the metro to Darvazeh Shemiran station. There I would work in a complex that served about 30 carpentry businesses. In the area there are hundreds of such workshops. It was something of a privilege to spend time with these manual labourers. We could not understand each other so well, but they were happy to incorporate me into their daily routine, and shared with me their thoughts for the day during mid morning snacks of boiled radishes, and tea. During one of our morning conversations the guys in the woodshop told me quite frankly that Iranians only really want to do three things: eat, smoke hashish and fuck. As you can imagine I practically choked on my boiled radish at that news. During my week there, Hadi Hussein and I would go out to lunch each day in the area, thereby allowing me to see a little more of the everyday life in the city. I am sure I do not insult anyone when I say that Iran to me is like a blend of India and France. Sophisticated chaos. If you ever make it back here Jim, I recommend Mirza Ghasemi - a dish made from roasted aubergine, mashed with garlic, tomatoes and spices, usually served with rice and topped with a fried egg. Chaotic Sophistication.
As I have some time before my plane departs, I will say something about the reality of life in Iran, or more accurately, Tehran, which clearly has two distinct and separate faces. There is the public or government sanctioned face and there is the private or secret face. As I have mentioned, our life as symposium artists was limited to the routine of hotel, bus, symposium, bus, hotel. The Iranians were careful to keep their public and their private lives separate. There were artists and others not connected to the symposium, but interested in the small international community of artists visiting Tehran. Sometimes they would come to the hotel or show up at the symposium site, which I took simply to be good natured friendliness. However there was careful observation and selection going on for their part and soon they would begin to open up and invite some of us into their private lives. If it was felt you could be trusted, a typical invitation would go like this: Someone, identifiable or unidentifiable would mention quietly that they would like to invite you out for the evening. They would say something along the lines of "I would like to invite you to my house, please be in the lobby of the hotel at 8.30pm, and please do not tell anyone about this". Having kept my lips sealed about the invitation, I would stand in the lobby of the hotel at 8.30, to be met by an unidentified man who would gather the three or four artists who had been given the "nod" and whisked off by car to an undisclosed location - invariably a house. There you would be ushered into the living room to be met by happy and casual people - who you may (or may not) have recognized from the symposium site. Everyone would be casually dressed. The women were invariably dressed up, had their hair fully exposed and dare I say it even wore revealing garments on occasion. Food would be offered and drinks would be plentiful. I rarely drink Vodka Jim, as you know - it is never my first choice of drink. However, during my 4 weeks in Tehran, I must have tasted every flavour of Absolut Vodka that a Camden Market bar has to offer. I enjoyed beer (mostly Heineken) as well as wine and other spirits.
During one of these caldestine appointments I found to my pleasure that I was attending the best party of my entire life. The party was hosted by a fashion photographer. And was held in a private house - a massive building in the centre of town. In this case, once again, invitations were whispered and a car would arrive at the hotel to carry across town the selected symposium artists trusted enough to go backstage into Iranian life. This particular evening was like an episode of Miami Vice, written by Franz Kafka. Back tracking through the city we eventually stopped half way down a dead end suburban street. Plain clothed security men stood in the street keeping watch for any signs of the police, authority, or state sponsored spies! We were taken through a side door into a large garden, and then into a mansion house, via another side entrance. As we climbed a set of stairs you could hear, ever so faintly, the sound of club/ house/ dance music. And then we stepped through a door and into the party. The party had a resident DJ and was populated by about 60 of the most beautiful women, and men, I have ever seen, most of whom were gyrating like there was no tomorrow. At least one famous actor was propping up the bar - which was free for the entire evening. Men in Tuxedos and white gloves would empty ashtrays and proffer olives every 5 minutes. The main 6 metre high wall of the house had painted on it a mural of a tanned woman in a Bikini holding a champagne glass, smiling and winking. There was no fucking or hashish, and little more than olives to nibble on, but it was still the best party of my entire life. Only on one occasion was I privately invited out where there was no alcohol. This was because we went for coffee at a local mall, just to see how the ordinary young people spend their evenings. This is where and how the opposite sexes meet, or for that matter the same sexes. I hope you like the photo attached showing two of Iran's finest out for a casual coffee.
I read just now in the paper that the political crisis relating to the 15 British service personnel taken to Tehran continues. According to the British press there were 200 angry Iranian protesters waving placards, stamping their feet and shouting outside the British Embassy in Tehran, no doubt calling for the blood and/or heads of all westerners. Sitting here in the airport, and thinking back on my time in Iran - the mausoleum of Hafez, Shiraz and Persepolis and so many other great things - I cannot help but wonder why the other 13, 999,800 good people of Tehran did not care to join these protesters.
The gate is closing and they are threatening to offload my bags, I must run. Good luck with the second edition of your thesis, may it sell another 100,000 copies. With best wishes, aeneas