Dear Jim, greetings once again from Japan. I am glad to know that your trip to India went so well. Congratulations on your great success. I am sure that the University of Delhi values your research and it is only a matter of time before they offer you a well deserved honorary Doctorate. It is quite a contrast coming from sunny Edinburgh out to the back of beyond in northern Japan. Your donation towards my plane ticket was gratefully appreciated. State funding for Scottish artists, who needs it?
The exhibition, Art @ Tsuchizawa is quite unique and deserves a great deal of attention. The event was initiated by the artist Roku Suganuma, who came to Towa Cho some years back, to escape the grind of Tokyo. Towa Cho (Towa town) is a bit of a backwater. Although unknown by most of Japan it was the birthplace of Yorozu Tetsugoro, Japans first modern artist, who experimented with cubist and expressionist painting not long after the European's were being influenced by Japan. The town has a small memorial museum and lots of rice farmers.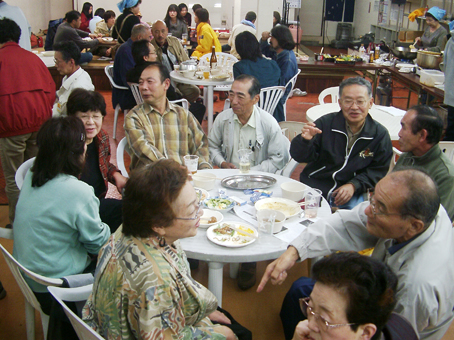 Roku Suganuma's idea was to create an "art open" whereby anyone could, if they wanted, put on an exhibition. In this respect it is genuinely open. "Hold on a minute there" I hear you cry. "This is an invitation to every Sunday ikebana flower arranger to have their 15 minutes of fame at the expense of serious artists". Some may think so. Nevertheless, in spite of the occasional "Sunday painter" the whole idea seemed to work quite well. There is a level playing field which makes for a diverse cross cultural experience. Yes there was one "artist" who wished to display, in a shop window, their collection of lovely hand stitched pseudo European dolls in the mode of Little Bo Peep. However they were sharing the same platform, and communicating with the same audience as Masao Okabe, who, I am sure you do not need reminded, is Japans representative at the 52nd Venice Biennale in 2007. The strength of the Art @ Tsuchizawa exhibition is that people participate because they have a unique opportunity to create work well outside the art loop. The whole village is a potential installation space. The fact that the work is made in such an "off the radar" location means that the artists are free (as free as you can be with next to no funding - not even for Mr Okabe)) to create work that is very much site and circumstance specific. About 150 artists from across Japan took part in the month long exhibition. In addition, the programme line up of Art @ Tsuchizawa included Yoko Kanda a professional Japanese Koudansha (story teller), traditional Kagura music (associated with Shinto rituals), Ningyou Kabuki (puppet theatre) and Takayuki Matsuda, Japans 3 times national Shamisen player of the year, no less. In addition to this there were a number of symposium discussions, which focused on the strengths and weaknesses of presenting visual art in its broadest sense in a rural environment.
Japan does have a more established rural art event, the Echigo-Tsumari Triennial, located to the north west of Tokyo and scattered over several locations. The opening event at the first Echigo Tsumari triennale way back in 2000 was by invitation only. Although my wife and I had bought tickets to see the sprawling exhibition, we were not allowed to attend the opening ceremony and sat outside the ceremonial hall eating snack food while the art dignitaries lorded it up behind closed doors. Speeches were made and backs were slapped, but few locals were amongst the chosen. I know this because I was still there sitting outside the hall eating oden (a kind of Japanese pot dish) from a polystyrene container when the chosen started to pour out of the hall. At least that evening, the beer tent event was open to all, but again the locals were very thin on the ground. In contrast to this, the opening event of Art @ Tsuchizawa was ticketed, but open to anyone who cared to buy one. The price (¥ 2000 - about 14 euros / $18) covered all the food and drink you could manage. Oddly enough I found myself eating oden again, although this time in the company of happy faces, many of them toothless and leather skinned from working the fields into old age. I was particularly taken by the dinner ladies in their blue head scarfs, dolloping out ladles of hot food as if they were doing a lunch time gig at the local high school. The master of ceremonies for the evening was the local Pharmacist who's quick wit made sure that the Mayor of the municipality was not allowed to turn other peoples hard effort into a plea for more votes in his direction. By the time the hot kettle of Sake, flavoured with Matsu Take (Japans most prized mushroom), was doing the rounds, a milestone had been reached as to the worth of art in the lives of rural northern Japan.
The two symposia that book-ended the exhibition featured speakers from across the contemporary art field in Japan. A key element discussed was the role that rural venues can play in contemporary art in Japan. These locations have an abundance of time and space that the cities cannot provide. The lack of media scrutiny and the lack of accountability offer a degree of freedom and experimentation that the cities with their administrative or sales conscious art systems can rarely offer. It was also pointed out that many government / local administrative art museums in Japan are scheduled to close as there are fewer and fewer people visiting them*. They have become expensive burdens on the tax budgets of many authorities. There is little political enthusiasm for sustained funding of visual art. However, when the US Military decides to move its strategic line of defence (archipelago line 1) further from Japan out into the pacific (Archipelago line 2 - Guam, Ogasawara Islands and Hawaii) it is the Japanese tax payers that will be footing the 30 Billion Yen relocation costs. This will happen, as China asserts it strength in the region. In contrast to this, when the US military began downsizing in Germany the costs were bourn by the US themselves. A recent government audit found that 7 trillion yen was misspent or wasted last financial year by the government!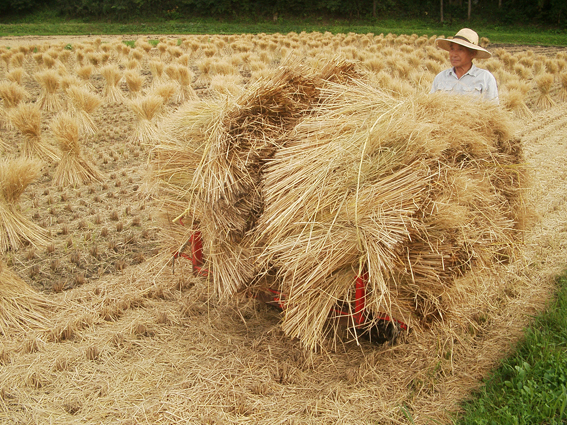 Like European art before and indeed Japanese art well before its bubble began (Mono Ha anyone?), there is a situation now whereby contemporary art in Japan is in a position to expand the creative field in directions that are dictated by necessity rather than finance. Unlike Europe there are few buildings squattable in the urban metropolises that dominate Japan, hence the strength of rural art projects. Strategic and meaningful funding to support contemporary art in Japan remains stagnant. However, the initiative to utilise art for the development of society seems to be growing amongst the rice farmers.
Hope this keeps you up to date Jim. Why not pop over with me for some rice and tea with the farmers next time I am here.
With best wishes, aeneas
* The museums would not actually be closed but sold on at a knock down price, as was done with resort towns some years ago - they were sold (offloaded) for about 1$ per resort. The extra drain on the financial budgets of any particular funding body is then, apparently, solved!